Early Learning Program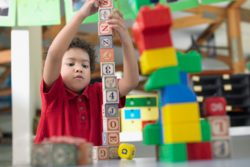 The A.B. Daley Early Learning Program offers 3- & 4-year-old children rich developmentally appropriate learning and play opportunities. Our Reggio-inspired program values every child as a strong, capable learner with an innate curiosity to understand their world.
Early Learning Educator, Tone Indbryn
We are very excited to have Tone joining the LRSD team and to be supporting our new Early Learning Program at A.B. Daley Community School. Tone brings to the position her creativity, excitement, and passion for supporting our earliest learners. Her knowledge of Reggio's philosophy, developmentally appropriate practice, and her musical background make her a true asset to the school community.
Background and Qualifications:
Former Junior Kindergarten Teacher

Former Family Resource Facilitator

Songwriter

Former Co-Director of a Childcare Centre

Child Development Supervisor

Early Childhood Education Certificate

Child and Youth Mental Health Extension Certificate
Tone share a bit about herself:
"I am thrilled to be a part of this new initiative, working with children and families to build an innovative and interesting program for A.B. Daley Community School," says Tone. "I am looking forward to sharing my passion for early learning , music, art, and creative exploration.
"I moved to High River two years ago and am excited to build new relationships make new friends and explore the wild and fun world of learning together. I am a singer/ songwriter and artist and I love to use these special skills in my work with children.
"I am a dedicated Early Learning Educator of over 15 years , a mother, stepmother and step-grandmother. I am committed to nurturing and supporting the children and families in my programs; I will always try my best.
"I love to be outside either walking my dog, riding my bike, playing music by the river, or in my garden. I believe life is beautiful and it is a privilege to be able to work with children."
Register Online for 2021-2022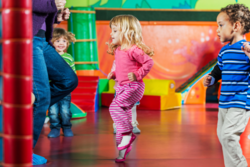 If you have questions about the program or your child's eligibility, please contact the school at 403-646-3161.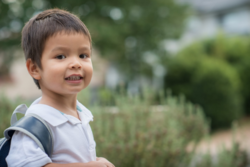 Program philosophy:
Honor the unique nature of each child

Offer development in mind, heart, body, and spirit

Include outdoor learning experiences

Provide opportunities to play and learn through music, art, and movement activities
Program eligibility:
Children need to be at least 3 years old on or before December 31st of the current school year to be eligible.

Children are encouraged to be fully toilet trained with some exceptions made for children with identified developmental delays or medical needs. Please contact the school to discuss further.

Programming is available for children accessing Program Unit Funding (PUF) or mild to moderate support.
Program structure:
We are currently accepting registrations for children to attend an afternoon program, either 2 or 4 days per week. The program will follow the school calendar. *We are no longer accepting registration for our AM program at this time.
A minimum number of registrations are required.
Bussing is not available for the Early Learning Program.
Program Hours: Monday-Thursday
Morning Program: Monday-Thursday, 8:35-11:35 am *No longer accepting registrations at this time.
Afternoon Program: Monday-Thursday, 12:15-3:15 pm 
Program fees:
$75/month for children attending the 2 half-days/week

$150/month for children attending the 4 half-days/week
Program supports:
Programming is overseen by a Certified Teacher. Children who may require additional support have access to a speech and language pathologist, occupational therapist, physiotherapist or other members of the Livingstone Range School Division Learning Services Team.

We value parents and guardians as partners in their child's learning journey.
Developmental needs for students:
If you think your child may have a delay or needs extra support, please call Early Learning Supervisor Sandi Harrower at 403-625-3356 or email

harrowers@lrsd.ab.ca

.