Back to all posts
Posted on
Stay Safe: Be a SHRIMP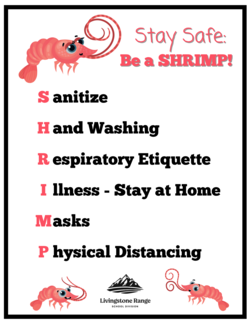 There are 6 simple things we can do as a school community to keep ourselves safe and healthy. And an easy way to remember these tips is to be a SHRIMP!
Sanitize - our school custodians and staff are regularly cleaning and sanitizing high-touch surfaces to limit the spread of COVID-19 and other communicable diseases.
Hand Washing - washing hands with soapy water for at least 20 seconds, and using hand sanitizer regularly is an important way to kill germs and stay healthy.
Respiratory Etiquette - coughing and sneezing into your sleeve OR covering your mouth and nose with a tissue and immediately disposing of the tissue in a garbage can will help stop the spread of germs that make you and other sick.
Illness - Stay at Home - anyone showing symptoms of COVID-19 must not come to school. If you are sick, stay at home, and call Health Link 811 to discuss your symptoms and possible COVID-19 testing. If students or staff become sick at school, they will isolated and parents will be contacted to pick up sick students.
Masks - wearing a non-medical face mask that covers your nose and mouth can help stop the spread of germs when physical distancing isn't possible.
Physical Distancing - wherever possible, our classrooms, learning spaces, hallways, and even playgrounds are set up to provide physical distancing. Student cohorts allow students to be with the same group and minimize physical contact with others.
Together we can help stop the spread of COVID-19 and allow students and staff to be learning together in schools.