Back to all posts
Posted on
Prepare for Back to School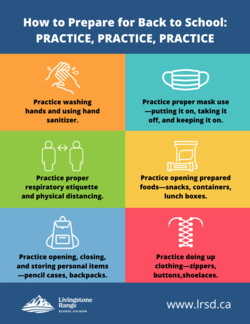 There are lots of ways to get ready to go back to school. This year, practicing for good safety, hygiene, and independence are extra important.
Here are 6 ways to prepare for going back to school:
Practice washing hands and using hand sanitizer
Practice proper mask use - putting it on, taking it off, and keeping it on.
Practice proper respiratory etiquette and physical distancing.
Practice opening prepared foods - snacks, containers, lunch boxes.
Practice opening, closing, and storing personal items - pencil cases, backpacks.
Practice doing up clothing - zippers, buttons, shoelaces.
Download a PDF poster to help your child practice, practice, practice these important skills.