Back to all posts
Posted on
May 22/20- Principals' Update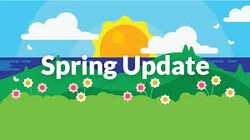 Hello A.B. Daley Families, 
We are very excited that our school is getting some projects that are taken care of such as new paint for our classrooms, a few new items for outdoor recess, physical education equipment, and a new playground coming very shortly as we complete our last phase of the project. We know this will be very exciting for students once we are ready to reopen doors next school year! 
We are currently in discussions with LRSD about re-entry plans for the fall and we appreciate families being supportive and patient as we work through these plans. Health and well-being is a top priority for us, and we will take our direction from Alberta Education, AHS and our Divisional team. As our plan develops, we will be sure to share with families as soon as possible. If you have questions or concerns please contact us at the school. 
Staffing News
While we are still working on our classroom configurations and finalizing our staffing we do have a few updates for families. It is with mixed emotions that we announce than Mrs. Watt will be joining the staff at West Meadow School in Claresholm and continuing to teach grade six there. We are sad to see her go, as she has contributed so much to our A.B. Daley School community! But we are also excited for those lucky kids in Claresholm! We wish her all the best!
Mrs. Spencer will also have a new adventure- baby #3 will be joining their family in September! We are so excited for her and her family. We hope she will share some baby pictures with us! 
We are still busy working on our staff placements for next year, but will likely be able to finalize that and communicate with families next week. 
Playground Reopening- On Hold
Although we see that playgrounds in Nanton will be opening up as of May 29, our school board has asked that we keep our playground closed for now. As stated above, we are also in the final phases of our new playground. Installation is likely to happen in June, so for safety reasons, we will keep closed until the project is complete and we receive more direction from the school board to reopen.  
2020-21 Kindergarten Information- ASQ 
Normally at this time, children who are coming to kindergarten in the fall would participate in an Ages and Stages screening event. This would give us an opportunity to meet our new kindergarten families and see where each student is at so we can plan for the upcoming school year with them. 
Because this is not possible at this time, we are asking families who have students coming to kindergarten in the fall of 2020-21 to please complete this online questionnaire to help us get to know your child before school starts! In addition, any children who are aged 3-5 in the community can also participate. For more information and to take the questionnaire please click here. 
Next week... Grade 7 J.T. Foster Virtual Orientation
Current grade six parents are welcome to attend the upcoming Virtual  J.T. Foster Orientation meeting which will take place on Tuesday, May 26 at 7 pm. Grade six parents received information for how to log in via email last week and we are looking forward to seeing you! Please share the link with any grade six families who will be moving over to J.T. for the fall! Google Meet Link here.


Grade 5 & 6 Instrument Return- A message from Mr. Henning: 
Hello Band Families! I hope you are all doing well! We are asking all grade five and six students who have Band Instruments and materials (Instruments, Music, Percussion Equipment) from Mr. Henning at home, to please return to A.B. Daley school on June 1 and 2 between 9 and 3 pm. If you have any questions, please don't hesitate to contact me,  Henningv@lrsd.ab.ca
Instruments can be left just outside the front doors of A.B. Daley on the dates above, and we will collect them.  This will allow us time to return and have rentals serviced. 
Library Book Drop Off
We will also be collecting A.B. Daley library books that you would like to return on June 1 & 2 between 9 and  3 pm.  We will have a bin outside for you to place those in. Please practice safe social distancing during your drop off! 
Owl's Nest News
Due to the long weekend, our next episode will air May 27! There is still time to participate in this week's Spirit Activity- a "Signs of Spring" photo challenge! Email one submission per A.B Daley student to beckerj@lrsd.ab.ca. 
We miss you all, thank you for all of your notes to staff, emails and calls. It is so nice to hear from our students and connect with families during this time. If you require support with schoolwork or require assistance with groceries during this time, please do not hesitate to reach out to the school or contact Jolene Becker beckerj@lrsd.ab.ca 
We hope everyone has a wonderful weekend! It seems like a nice weekend for movies, playdough and games!
Miss you all, 
Jolene Becker & Alli Martin
Admin. Team
A.B. Daley