Back to all posts
Posted on
ABD Weekly Update- December 11/20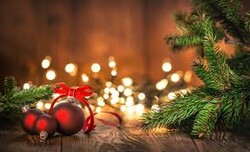 December 11, 2020
Dear A.B. Daley families, 
Happy "last month of 2020"! I am breathing a small sigh of relief as I write those words, as this year has been a real adventure! Despite the challenges and changes during this school year, we are still getting into the Christmas spirit at A.B. Daley. Although it is a little quieter this year and we don't have our usual concert preparations underway, the Christmas spirit is alive and we are finding fun ways to create memories with our students. This week, our classrooms have been engaged in different activities with the Student Council for our A.B. Daley Christmas Countdown, which has been a huge hit! We have been busy with our door decorating challenge, "Give Back to the Community Day," a School-wide Bingo game and Christmas Rock Art project. Please check out the Highlights of the A.B. Daley Christmas Countdown to see examples of all these wonderful projects! 
This year has definitely been different for all of us, but every bit as special in it's own way. As I walk around the school this week, I am amazed by the resiliency of our students and staff and the creative ways they have built a community atmosphere in their classrooms. We have learned a lot this year and I truly believe that working together through these challenges has brought us closer together as teachers and learners too. I would also like to thank our wonderful parents and the community of Nanton for their commitment to safety, patience, understanding and the ability to change course on a moment's notice, we know this has not been easy. We have made many sacrifices for how we conduct ourselves, but have also found new ways to work together to ensure the success of all students. Thank you! 
As we prepare to transition into a well deserved Christmas break, we know things will look a little different when we resume learning in January. Once again we will be adapting and pivoting to at-home learning (January 4-8)  as per the Province of Alberta Regulations due to Covid-19. This week of learning will be directed by the teacher, but will also include learning activities that students can work through at their own pace from home. Although many learning activities will be digital, teachers will be sending activities that can also be done away from the computer as we recognize the importance of "unplugging." It will be different from the online learning that took place in the spring, and students will be expected to participate in classroom activities and scheduled Google Meets with their classes. Students will be instructed in their core courses (literacy and numeracy focus for students in K-3 and all core courses in grades 4-6). The school is also still responsible to take attendance as programming will continue for your child. 
Between now and January 4th, your child's teacher will be communicating to you with more detailed information about the learning plan for the week. You child's teacher also may send some supplemental materials home to help assist your child with the work for this week. 
Technology Loaning
Please email Mrs. Becker (beckerj@lrsd.ab.ca) by December 18 if your family would benefit from having a loaned Chromebook for the week of January 4-8th to complete online school work. 
Programming Changes 
Communicated out earlier today is information regarding programming change. Please see the link to LRSD Continuity Letter Winter 2020 which will explain your options for the second half of this school year. This would apply to any families who are thinking of changing their child's program to either At-Home or In-Person learning for the remainder of the school year. This change in programming would take place on February 1, 2021. The deadline for making programming changes is December 18, 2020. Please review this information, and contact Jolene Becker beckerj@lrsd.ab.ca if you wish to make any changes to your child's program. 
Kindergarten Programming Fall 2021 
We are asking for some information ahead of our formal Kindergarten Registration Process which will follow in the New Year. If you have a child who is of age to start kindergarten in the Fall of 2021, (5 years of age by the end of December 2021), and you are currently planning to send them to A.B. Daley School we ask that you would fill this quick 2021 Kindergarten Survey. As there are many unknowns right now, consider that next year is a more "normal" year and fill out the form accordingly (this is just a preliminary gathering of information). More information on registration will be sent out to families in January.
A few important dates to note:
December 17- Christmas Spirit Dress Up Day
December 18- PJ and Movie Day (Last day of school!)
December 21-January 4, 2021- Christmas Break
January 4 - 8, 2021- Week of At-Home Learning
Jan. 11, 2021- In-Person Learning Resumes 
I would like to wish all of our families a Merry Christmas and Happy Holidays. Although it will look different this year, I hope you find time to rest, relax and enjoy some time with your families! 
If you have any questions or concerns, please contact us at the school, 403-646-3161 or s-abdaley@lrsd.ab.ca .  
Jolene Becker & Alli Martin
Admin. Team
A.B. Daley School