Back to all posts
Posted on
A.B. Daley Weekly Update- June 25/21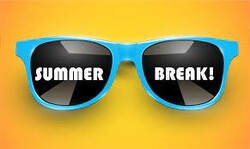 Good Afternoon A.B. Daley Families,
We made it! And we couldn't have done it without all the support from our amazing families at A.B. Daley School. Thank you for hanging in there with us through so many changes to procedures and practices. We have experienced a school year like no other, and still, we are smiling, laughing, and learning together. 
I would like to thank the families and community members of Nanton for the privilege of watching your children grow and learn for the past eight years. I have made so many connections and learned so much from you and your children and the amazing staff of A.B. Daley.  Thank you for your support over these past years, I hope you all enjoy a wonderful and well-deserved summer break. "Gotchas" for everyone! ~ Mrs. Becker 
Grade Six Farewell Video
A special shout out to our amazing grade six group this year! Thank you to Mr. MacDonald and Mrs. Wiebe for putting this special collection of memories together for our grade six students. We wish our grade sixes all the best in grade 7! 
2021-22 School Year Calendar and Supply Lists
*Families can expect to know their child's placement for the next school year during the week of August 23. 
Please follow the links to both our School Year Calendars and our Supply lists.
A few important dates to note:
Week of August 24- Classroom placements will be shared with families via email
August 31- First Day back in classes!
Please note that our staff will be enjoying a wonderful and well-deserved summer break. Our office will be closed until August 24. If you require assistance that week,  please contact us at the school, 403-646-3161 or s-abdaley@lrsd.ab.ca.  
Jolene Becker & Alli Martin
Admin. Team
A.B. Daley School