Back to all posts
Posted on
A.B Daley Weekly Update- Aug 27/20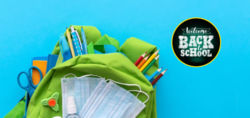 Hello A.B. Daley Families! 
We are so excited to start up the year and have your children with us whether it be in-person classes, At-Home learning or Homeschool programming that you have chosen. We have been busily working this week to ensure a safe return for our students and to learn new practices we will need to review with your child. We are still learning too, so we appreciate all of your patience and kindness with us as we plan to receive your children. We know this is difficult for families, whatever your choice is, and we are here to support and work with you as we navigate the school year. 
Socially Distanced Open House:
Tomorrow, August 28, 2020, we are inviting our families to consider attending a socially distanced Open House during the assigned time. We would ask that families complete the COVID-19 Screening Questionnaire prior to attending, and avoid attending if they have any of the symptoms indicated. Parents and children in grades 4-6 will be asked to please wear a mask, children in grades K-3 will not be required to, but are encouraged as well. This will give each family the opportunity to see their child's classroom, have a quick visit with the teacher and ask any questions that they may have.  Please plan to attend according to your family's surname at the following assigned times:
9:00 - 9:45 - Families A-F 
10:00 -10:45 - Families G-L
11:00 - 11:45 - Families M-S
12:00 -12:45 - Families T-Z 
Please note that we will have to control the traffic flow, and we encourage families to drop into each classroom to say hello and get the information they need, but also not to linger inside so others can have their turn as well. 
September 1 & 2 Staggered-Start: 
We are also asking families to consider returning to school according to an optional Staggered-Start Plan. If possible, we would like families to consider attending as follows:
Families whose last name begins with the letters A-L to attend school on Tuesday, September 1st
Families whose last name begins with the letter M-Z to attend school on Wednesday, September 2nd
All students would then begin attending regularly as of Thursday, September 3rd. 
This Staggered-Start would be completely optional. It would allow us to work with smaller groups of students to help everyone understand the changes in expectations and routines around our school for the upcoming year. These smaller numbers will also help reduce anxieties that some may feel after an extended absence from our building. If you would prefer to send your child(ren) regularly beginning Tuesday, September 1st, we will be prepared to welcome them to the school. Please be advised students who attend both days will receive the same content. 
School Supply lists:
Can be found on our School Website under "Quick Links, or by visiting schoolstart.ca
Arrival and Dismissal:
We will have students enter the building in "waves" in the morning. They will be designated Group A or Group B so the same group cohort is accessing the building at the same time. Please plan to have your child arrive between 8:30 and 8:40 am. We will not have supervision prior to 8:30 am on the playground. In the mornings, teachers will be outside to greet and organize their classes and bring them into the building. You are welcome to drop off your child at the designated school drop off zones (marked by schoolyard entrance) but parents will not be permitted to accompany their children to the classroom at this time. Your child's teacher will be waiting for you at both arrival and dismissal so that we can ensure safety for all our students each day. 
At the end of the day, students will also be dismissed in "waves" between 3:20 and 3:25 pm. Teachers will accompany children outside to their meeting areas and you can pick up your child there, or they can be dismissed to walk home depending on your arrangements. You can communicate these arrangements with your child's teacher. 
Masks:
In addition to the supplies for each grade, please remember that each student in grades 4-6 will be required to wear masks (Alberta Government will be providing each child with 2 reusable masks, but you may want to consider purchasing a few extras as well). We also encourage students in grades K-3 to wear masks, although mask-wearing will be optional for these grade levels. All staff are also required to wear masks in any shared spaces of the school and when physical distancing is not possible. This is an AHS and Alberta Education mandate and is not the choice of any individual school or Livingstone Range. 
**We have not received our government-issued masks yet, so please plan to send one with your child on their first day. We will also have disposable masks for any students who require them. 
Our teachers are looking forward to meeting you and working with your family this year! If you have questions, please feel free to ask them and remember that we have the same goal, the education, health and wellbeing of your children!  
Sincerely,
Jolene Becker
Principal
A.B. Daley School