Back to all posts
Posted on
A.B. Daley School Update- March 24/20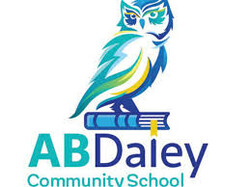 Good Afternoon A.B. Daley Families, 

Thank you so much for being patient while we get used to our "new normal." Teachers are hard at work trying to connect with all of our families and make sure we are still able to meet our students' needs during these difficult times. 
Families of A.B. Daley can expect that they will begin receiving programming from their classroom teachers on Wednesday, March 25, 2020. We will begin to focus on literacy and numeracy at this time. As parents ourselves, we recognize that this is a very overwhelming time, and we encourage you to complete what you are able to do and to go slow as well. We are all learning during this time, and we are here to support you as well. Feel free to connect with your child's teacher if you or your child need support in any area. 

Communication during this time is so important! Thank you for taking the time to complete our A.B. Daley Technology & Support Survey. It is still open if you need more time to complete it. Our teachers are using this information you have provided to best plan for the students in their classrooms and to ensure we have communication with all of our families. You can also expect to receive your child's report card this week, they are being mailed out this afternoon. 

We are currently working on a plan to ensure our families who may not have devices (such as laptop, Chromebook, tablet) receive a Chromebook from Livingstone Range School Division's borrowing program. Right now, we are trying to ensure families who have no device receive one first as we have a limited supply. We will be in touch with families individually to set this up by the end of the week. Any families who are contacted will be required to sign the LRSD Borrowing form. 

Our Healthy Hunger Lunch program will also be issuing refunds to families who have pre-purchased lunches for their children. Families should receive refunds in the coming days and due to high volumes, this may take time. Please be patient and know that these refunds will be coming. 

Friends of A.B. Daley has received the Purdy's Chocolate orders and will be connecting with families this week to create a plan with you for pickup/delivery. 
During these difficult times we want to reassure families that our team continues to offer support for our students' wellbeing and health. Our Family School Liaison Counsellor, Tracey Wallace, is available to families and can be reached from 9 am until 4 pm daily by contacting (403) 652-6109 or the school (403) 646-3161.  Just because our classes have ended does not mean our supports have. 

Please see the communication from Darryl Seguin, LRSD Superintendent, which is attached below and will provide you with information regarding Livingstone Range programming going forward. 

Lastly, we hope you are well and that you are finding ways to connect with others and stay positive. We are all missing connecting with your children on a daily basis and you! Please stay in touch and let us know how we can support you! 

Thank you,

Jolene Becker
Principal 
A.B. Daley School 

Alli Martin
Assistant Principal 
A.B. Daley School