Back to all posts
Posted on
A.B. Daley Weekly Update- January 8, 20201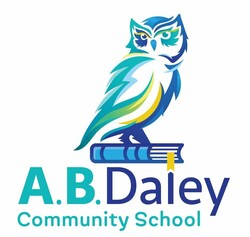 January 8, 2021
Happy New Year A.B. Daley Families!
We are very excited to welcome our A.B. Daley students back to school on Monday, January 11! If you missed the announcement from the Province of Alberta yesterday, they had announced that all students K-12 will return to in-person schooling as planned. 
We would like to thank all of our families for participating with their class this week, it was great to see so many of you excited to meet online with teachers and classmates!  We had about 94% of our students log in and participate regularly this week, which is a huge celebration. Thank you to our families for the support you provided your child this week to be able to continue on with their classroom. 
If you borrowed a Chromebook for this week of At-Home Learning, please be sure to return it to the school on Monday, January 11, with the charge cord. Thank you! 
Student Illness 
Just a reminder that although we are very excited to have students back in person on Monday, parents are reminded to stay diligent in completing the Alberta Daily Health Checklist, prior to their child attending each day. If your child is ill or experiencing symptoms, we are still asking that you keep them at home. Please review the information below prior to sending your child back, to ensure that we all continue to help each other stay healthy. 
Click HERE for the updated COVID-19 ALBERTA HEALTH DAILY CHECKLIST (FOR CHILDREN UNDER 18)
Choice Board Contest
Some of our students were able to work their way through the different Choice boards for activities in health, physical education, mental health and wellness, music and art- see Choice Boards here. We will be having a little draw and some prizes for students who can print off their completed choice board and have their parents sign it and bring it to their teacher. Choice boards must be handed in to their classroom teacher by Friday, January 15, so you still have time to work on them!
A few important dates to note:
Monday, Jan 11, 2021- In-Person Learning Resumes 
Friday, Jan 15- A.B. Daley Choice Board Draw (see info. above)
Friday, Jan 29- No school for students 
Monday, February 15- Family Day (no school for students) 
February 16-19- No school, Teacher Convention
Looking forward to seeing all of our students back on Monday! As always, if you have any questions or concerns, please contact us at the school, 403-646-3161 or s-abdaley@lrsd.ab.ca .  
Jolene Becker & Alli Martin
Admin. Team
A.B. Daley School