Back to all posts
Posted on
AB Daley Weekly Update- December 18/2020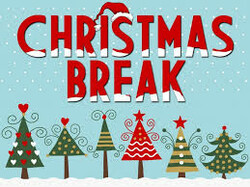 December 18, 2020
Dear A.B. Daley families, 
Happy Holidays! As you know, our last two weeks have been filled with Christmas spirit and a flurry of activities. Our staff and Student Council members have gone above and beyond to create meaningful, engaging and fun activities for your children during our A.B. Daley Christmas Countdown event, and although this year is different from others, we created very special memories as a school community this year just the same. For a highlight reel of the events these past few weeks please take time to view this ABD Christmas Countdown video with your family!  
Teachers this week have been preparing lessons for our week of At-Home Learning from January 4-8.  Throughout this week of learning, it is expected that students participate as they will be reviewing concepts from prior to the break and continuing on with curriculum in core subjects such as literacy and numeracy, as well as social and science for grades 4-6. Teachers have been putting together learning plans for your children for that week, and setting up Google Meets where they can meet with their classroom to deliver instruction and provide support for the learning they will be doing at home. Teachers are also responsible to report attendance and note participation during this time. That being said, we certainly are aware that each family has unique circumstances and know that participating from home can be a challenge. We do not wish to add any undue stress during this time, so if you are unable to participate in an activity or Google Meet session, please make your teacher aware and we will do our best to support your child's learning as best we can. 
Between now and January 4th, your child's teacher will be communicating to you with more detailed information about the learning plan for the week. Please do not panic if you do not hear from your child's teacher today! We are all still setting up online sites and we also really want to give our teachers and YOU a Christmas break! It is not expected that any child or family complete any work during our regularly scheduled break which begins today! 
Family Supports over the Holidays
Just like most families within A. B. Daley School, we are so looking forward to the end of this emotionally tough year. We are also recognizing this Christmas is going to look very different for our extended and immediate families.  While we are all doing our best to adjust to evolving public health measures and balance new and innovative ways to support student learning and wellbeing, it has just been a challenging time, and some "normalcy" would be the best gift at this time. So I want to encourage you and your family to do just that. Use this break to connect with your family as best as possible. Build a snowman. Have a walk. Read or tell stories. Create and teach your kids a new or really special tradition for this holiday.  Be together and hug as much as possible (within your cohort!). However, if this holiday proves to be too challenging and you feel like you need some further support, you may want to access The LRSD Wellness Resource site, which provides a number of resources for managing your time and stress, as well as fun ideas for things to do as a family.
We also want to remind families there are many electronic and community programs that can be accessed if challenges arise or increase over the Christmas break. Many folks struggle with mental health more often over big holidays, please know that you are not alone.  Reach out for help from your family and friends if you are able and if not there are several resources listed below that can help;            
Crisis Text Line: Text CONNECT to 741741
Addiction Helpline: 1-866-332-2322
Kids Help Phone: 1-800-668-6868 or text CONNECT to 686868
Alberta Mental Health Help Line: 1-877-303-2642 or 911 in case of emergency  
Technology Loaning
Please email Mrs. Becker (beckerj@lrsd.ab.ca) if you require a Chromebook for the week of At-Home Learning. I have a few that have not been checked out, although you will need to come pick them up the morning of Monday, January 4.  A user agreement must also be signed by parents prior to a device being loaned. 
Programming Changes 
A reminder to any families who are thinking of changing their child's program to either At-Home or In-Person learning for the remainder of the school year. This change in programming would take place on February 1, 2021. The deadline for making programming changes is December 
18, 2020. Please review this information, and contact Jolene Becker beckerj@lrsd.ab.ca if you wish to make any changes to your child's program. 
Kindergarten Programming Fall 2021 
We are asking for some information ahead of our formal Kindergarten Registration Process which will follow in the New Year. If you have a child who is of age to start kindergarten in the Fall of 2021, (5 years of age by the end of December 2021), and you are currently planning to send them to A.B. Daley School we ask that you would fill this quick 2021 Kindergarten Survey. As there are many unknowns right now, consider that next year is a more "normal" year and fill out the form accordingly (this is just a preliminary gathering of information). More information on registration will be sent out to families in January.
A few important dates to note:
January 4 - 8, 2021- Week of At-Home Learning
Jan. 11, 2021- In-Person Learning Resumes 
We would like to wish all of our families a Merry Christmas and Happy Holidays. Although it will look different this year, we hope you find time to rest, relax and enjoy some time with your families! We look forward to seeing you during our week of At-Home Learning, and welcoming you back in person on Monday, January 11! 
If you have any questions or concerns, please contact us at the school, 403-646-3161 or s-abdaley@lrsd.ab.ca .  
Jolene Becker & Alli Martin
Admin. Team
A.B. Daley School