Back to all posts
Posted on
Weekly Update- September 4/20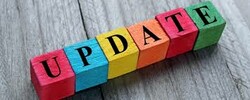 September 4,  2020
Dear A.B. Daley Families, 
We made it! Week one went well and all of our staff are so grateful to have students back in the building with us! We know there have been lots of new adjustments and procedures to learn, but our students are so resilient and are handling back to school this year like champions! 
Just a few informational items to share with you this week: 
Long Weekend! Reminder that Monday, September 7, is a holiday. We look forward to welcoming everyone back on September 8! 
Demographic Forms were sent home on Thursday with your child. These are due back to the school on Friday, September 11. This year it is extremely important to ensure these are updated accurately and completely. This is the form we use to contact parents/guardians if a child is ill and needs to be picked up from the school. Please ensure that you provide two emergency contacts. 
Grade 4 students, as well as all At-Home Learners, also need to sign and return their Network User Agreement. This ensures that students have read and understand our procedures around acceptable use of technology. 
Band Program Update (Grade 5 & 6)  - Due to COVID-19 restrictions, we have taken steps to ensure safety of all students and have Mr. Henning travelled to AB Daley for all music programming. Although we know the grade 5 & 6 students have been looking forward to Band this year, we will still be able to offer a unique music program with Mr. Henning as our music specialist. There will be a small fee for music 5 and 6 students, to offset the cost of extra equipment which would not usually be provided in an elementary music program. More information on fees will be provided to families next week. 
Shop/Outdoor Education Program (Grade 6)- Mr. Gamache will travel to A.B. Daley to offer programming to our grade six students twice a week in the afternoons. At this time, due to COVID-19 restrictions, we will not be offering the Shop program, but grade six students will participate in Outdoor Education and Wildlife classes. This will occur on site- and students will remain in their classroom cohort for this class. More information on fees for this will be provided next week. 
We are hopeful that both Band and Shop programming will be offered again once these restrictions are relaxed. 
Student Illness- Remember to please go through the Alberta Health Daily Checklist  provided by AHS each morning, prior to sending your child to school. If they have symptoms, they should stay home and parents can consult with their doctors or 811. 
If you have any questions or concerns, please contact us at the school (403-646-3161) or s-abdaley@lrsd.ab.ca .  Have a wonderful long weekend! 

Thank you,
Jolene Becker
Principal 
A.B. Daley School 
Alli Martin
Assistant Principal 
A.B. Daley School