Back to all posts
Posted on
June 26/20- Enjoy your Summer!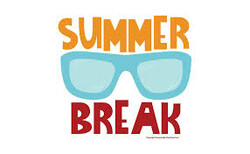 Dear A.B. Daley Families, 
As we head off into our summer break, we just wanted to say a huge thank you from our staff for all of the kind words and encouragement we have received in these past months. As we reflect on this past year, make sure to also remember all of the great experiences we shared prior to classes being cancelled. Our staff is already looking forward to what the fall brings and excited for when we will be reunited with our students and families! 
Our report cards were mailed out this week, so you should receive yours by early next week at the latest. We would like to remind you that this reporting period was entirely based on learning since classes were cancelled and the focus was on English Language Arts and Math for this reporting period. If you have any questions about your child's report cards this term please make sure to reach out to the school.
Thinking about next year, I am sure that many of you are wondering what class your child will be assigned to for the fall. We have tentative placements for next year but we will not be making next year's class lists public until August. Thank you for being patient with us as we plan carefully for next year. 
What school is going to look like in the fall is on many of our minds. We are tentatively planning for Scenario 1, where school is back to "near normal" in the fall. With that said, we are going to have a big emphasis on not just making a healthy learning environment but also focusing on social-emotional wellness as we welcome our students back to A.B. Daley. 
We are expecting to hear from the Minister of Education by August 1st. You can expect to hear communication from the school in the first week of August in regard to specifics of our re-entry. Please make sure you are watching the school website www.abdaleyschool.ca and Livingstone Range School Division www.lrsd.ab.ca  for updates on School Re-entry for the fall. 
We look forward to seeing you in the fall. We hope you are able to enjoy some downtime with your family for rest and relaxation! 
Take care and enjoy your summer! 
Jolene Becker & Alli Martin
A.B. Daley Admin Team